Explore Antarctica Through Adventure Activities
While cruising, you will have the opportunity to expand your experience through different Antarctica activities.  This one-of-a-kind opportunity opens many Antarctica activities to experience while you are exploring.  Want to experience camping in Antarctica, or snowshoeing the snowy lands, or take things to the water by kayaking the brisk waters?  So many Antarctica activities lie ahead of you!  Immerse yourself fully into the Antarctica lands and waters.  Personalize your experience by leaving the cruise ship to experience different Antarctica activities that best appeal to you.
Camping
First, experience Antarctica activities to the fullest by ditching the comforts of the cruise ship and camping in the Antarctica crisp air for a few nights.  This activity is one that you will remember for a lifetime and make stories that are one in a billion.  I mean, how many people can say they have CAMPED in ANTARCTICA?!  Use this opportunity to embrace the Antarctic's fresh airs, open lands, and incredible silence.  This chance to camp on the snowy land will be a life-changing experience.  When else will you have the opportunity to camp surrounded by penguins in pure silence that is only broken by the crackling of icebergs? Your only chance to experience it is while camping as one of your Antarctica activities.
Also, the length of nights you can camp vary depending on which trip you select.  Feel free to contact us with any questions.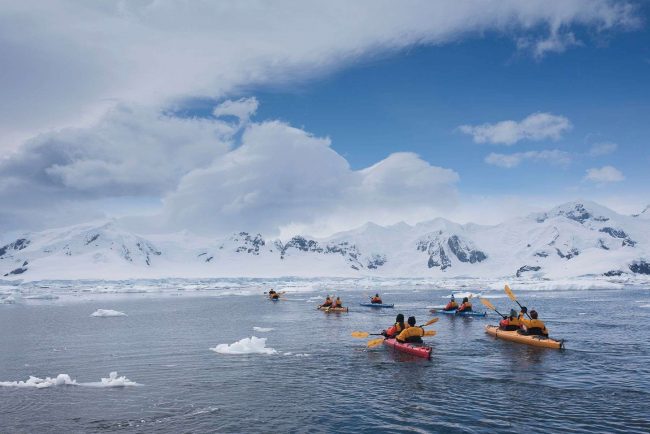 Kayaking
Imagine the soothing feeling of swaying on the seemingly endless waters.  Paddle your way through the crisp and expansive waters by selecting sea kayaking as one of your Antarctica activities.  Embrace the icebergs that surround you as you gaze at their immense size.  The sight is one of a kind.  As you continue paddling, you will see wildlife right below your kayak swimming in the deep waters.  The kayaking opportunity is a wonderful option when wanting to explore the waters in a more intimate manner, without drenching yourself in the subzero waters. 
Everything will be provided for the kayaking Antarctica activities.  Besides that, our team recommends you to have basic kayaking knowledge and skills prior to the kayaking Antarctica activities.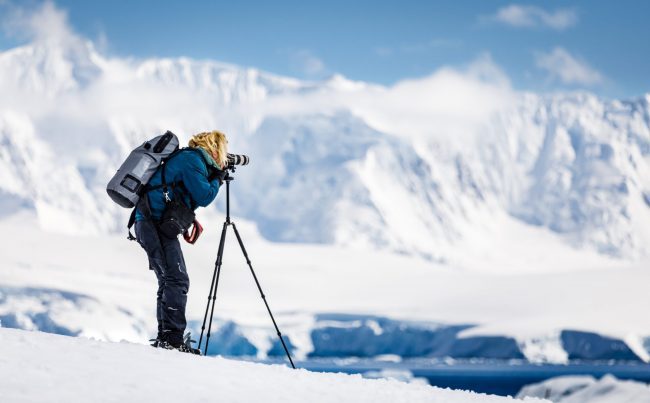 Photography
Are you wanting to experience Antarctica activities and combine it with your passion or hobby for photography?  Capture your experience through your camera lens by going on our photography excursions!  Different than other Antarctica activities, this photography activity enables you to be creative by taking neat pictures while exploring outdoors.  These images will last you a life time and help illustrate your once in a lifetime experience to friends and family.  If you want to learn from the professionals in photography workshops and outings, then this is the perfect activity for you!

Cross-country Skiing
Is your goal to experience breathtaking views while exploring on your Antarctica activities?  Take advantage of this cross-country skiing opportunity while visiting the one of a kind, Antarctica.  You can experience endless new landscapes while cross-country skiing across the snow and admire the variety of sights.
Cross-country needs advanced reservations and has an additional cost.  Additionally, the excursion can last for several hours, so it may be strenuous for some.  Overall, I would not let any costs deter you from this breathtaking opportunity to cross-country ski in the serine setting of Antarctica.  Furthermore, the cost depends on your ship, so feel free to contact us with any questions you may have.
Mountaineering
Hiking Antarctica's glaciers?  All in a day's work!  One of the many Antarctica activities available is mountaineering.  With this opportunity, you will hike across harsh landscapes and glacial lands to admire some of the most special and beautiful views Antarctica can offer.  You and your group will be hiking up snow covered mountains and near immense glacial crevasses.
Mountaineering equipment will be included for this experience, so you do not need any extra preparation there.  But, the mountaineering activity is not available for some trips. If you are interested in our mountaineering excursion, ensure ahead of time that you are on a cruise that has it available.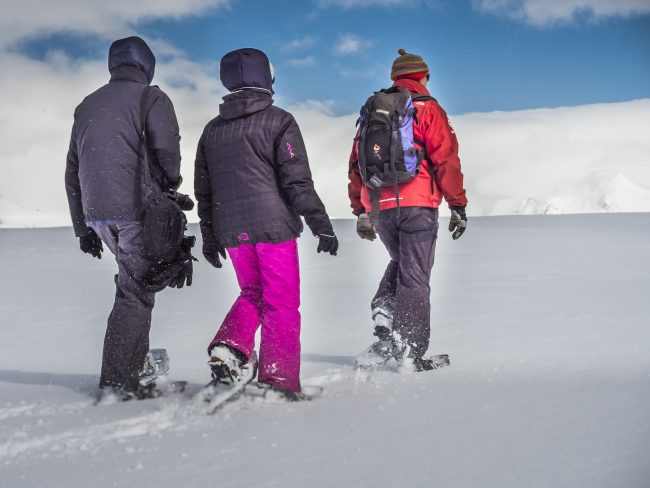 Hiking and Snowshoeing
Wanting to explore and see beautiful Antarctic on foot?  Out of all Antarctica activities, hiking and snowshoeing is the perfect one for you!  These trips can range in difficulty depending on what you are searching for.  These Antarctica activities can be an easy stroll or an intense hilly, mountainous hiking experience.  This opportunity can vary and be personalized according to your needs; helping you have the most amazing experience.  You will be informed ahead of time what to expect, and then have the chance to decide if it is the activity for you.
Polar Diving: Scuba Diving
Say what?!  Imagine diving into the deep Antarctic waters swimming making friends with the penguins and seals.  This opportunity provides with to explore Antarctica more extensively by swimming below the surface of the waters.  During this scuba diving experience, you will have the opportunity to dive under the waters up to 60 feet below the surface.  The beauty below the surface is unimaginable: combining the sun rays, brisk waters, amazing wildlife, and underwater ice formations.
Stand-Up Paddleboard
Like kayaking, you will have the chance to experience another neat one of the Antarctica activities.  Stand-up paddleboarding is a wonderful opportunity to embrace the waters and different landscapes of Antarctica.  Have fun with nine others floating on the water enjoying the views with you.  This opportunity has limited space, since only 10 can sign up during this experience.

Don't Wait! Book Your Cruise Activities As Soon As Possible
We recommend that you book your adventure activities as soon as possible. Once you decide on your cruise, make sure to let us know which activities you are interested in so that we can reserve your spots for you. These activities are often limited and spaces go quickly.
If you have any questions or want more information, please do not hesitate to contact us! We have a decade of polar travel experience, especially in Antarctica, and would love to pair you with the perfect cruise and adventure activities. Experience the trip of a lifetime when you book your Antarctica cruise with Polar Holidays.