Ready to experience the world's chilliest and most remote continent? Visiting Antarctica is an incredibly invigorating experience – whether you're a young adventurer or a senior traveler. From stunning landscapes, abundant wildlife, and unique cultural experiences, there is something for everyone as you explore this remarkable frozen wilderness. This blog post will provide all the necessary information you need to know to make your experience visiting Antarctica as a senior enjoyably and safely.
When can I travel to Antarctica?
Antarctica is an isolated continent, and due to the extreme conditions, it is usually only accessible during the Antarctic summer months of November through March.
Visiting Antarctica is truly an expedition and is very different temperature-wise when compared to a tropical cruise! We advise guests to prepare for a range of temperatures from -30 to 10 degrees Celsius (-22 to 50 Fahrenheit).
What to expect when visiting Antarctica as a senior
When visiting Antarctica as a senior, you can expect an adventure of a lifetime! Visiting this remote and icy continent is an opportunity to explore some of the world's most rarely seen landscapes.
Senior travelers should know that visiting Antarctica requires significant physical and mental preparation. Visiting will require extended periods on a cruise ship, including potentially rough seas. Physical requirements may include extensive walking, and traversing potentially slippery surfaces.
It is important to ensure that you have the necessary vaccinations before visiting Antarctica and to consult a physician if there are any medical concerns. Some ships require medical clearance for passengers over 70 years of age due to the strenuous nature of some activities, so it is important to check with the cruise provider beforehand. Please contact our team for more information as each cruise operator we partner with may have different regulations and requirements.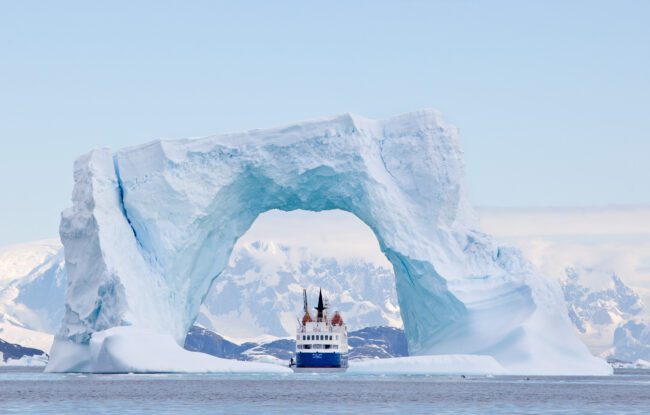 Why Visit Antarctica
Seniors looking for a once-in-a-lifetime adventure will find it in visiting Antarctica. It is the only continent on Earth that remains largely untouched by humans and is full of amazing sights and experiences.
Visiting Antarctica allows seniors to explore an environment unlike any other planet – from icebergs and glaciers to penguins, seals, and whales. The most difficult part of the journey for most passengers is the crossing of the Drake Passage during the first and last 2 days of the voyage. If you are worried about motion sickness you may be more comfortable flying to and from the continent! You can choose from several flight experiences and may choose to fly to the continent and then board a ship upon landing. Some travelers choose to fly to the continent, sail around the region for a few days, and then fly back. Some also choose to fly to the continent, sail around the region, and then sail back as well! Check out our Flying to Antarctica page for more information, or contact our team!
Planning Your Trip
Visiting Antarctica as a senior requires some careful planning. Make sure you know how long you will be visiting, what kind of activities you want to do, and what you need to bring. It would help if you also considered the weather conditions during the time frame you are considering for your cruise! We have a month-by-month guide for planning which describes weather, likely animal spottings, and activities available.
Finally, we recommend considering what you would like to budget for your Antarctic cruise vacation. Visiting Antarctica can be expensive due to the logistics involved in getting there and outfitting for such a remote location. However, there is quite a price-range associated with different types of cruise experiences based on activities, destinations, the time of year, when you book, the type of cruise ship you want to be on, and if you book during a sale. We work with multiple different cruise lines to shop the best deals for our clients, so please contact our team if you would like assistance in finding the best deal on your cruise!
How long is an Antarctic expedition
An Antarctic expedition can range from a few days to several months, depending on the activities you plan to do. Visiting Antarctica as a senior is best done with an organized tour, which typically lasts between two and six weeks. During this time, you may choose from a variety of experiences, including snowshoeing, kayaking, camping, and other activities.
Depending on the length of your tour, you may have time to visit multiple locations or participate in additional programs such as whale watching or seeing flora and fauna unique to Antarctica. Since conditions can be harsh and unpredictable, it is important to plan accordingly when visiting Antarctica.
You should ensure that you are physically and mentally prepared, that you pack appropriately for the cold environment, and that you have all the necessary supplies. Planning helps ensure a safe and enjoyable trip.
How is an expedition to Antarctica different from a cruise
A visit to Antarctica is more than just a cruise. It's an expedition. Visiting Antarctica as a senior is far different than taking a traditional cruise. While you can expect the same degree of comfort, food, and entertainment aboard an expedition vessel as you would on a cruise ship, the main difference lies in what's available. Visiting Antarctica requires expedition planning and preparation not only to ensure the safety of the passengers but also to experience the region's beauty and wildlife firsthand.
An expedition to Antarctica encompasses more than just a leisurely visit in which you can explore glaciers, take photographs, and observe Antarctic wildlife in their natural habitat. It also includes educational lectures and activities, such as kayaking or camping on the ice, to provide passengers with a hands-on experience. Visiting Antarctica as a senior may also include visits to science research stations and other places of interest.
The safety of the crew and passengers is taken very seriously when visiting Antarctica. An experienced guide will always be present to ensure that everyone takes the necessary precautions and answers any questions or concerns.
What can I do in Antarctica?
Visiting Antarctica can be an exciting and unique experience. There are many activities you can engage in while in the polar regions. From seeing wildlife to trekking across glaciers – there are plenty of opportunities to explore and experience all the continent has to offer.
If you're looking for adventure, why not cruise around the Antarctic Peninsula? You'll experience some of the most breathtaking scenery on earth, including towering icebergs, snow-covered mountains, and pristine glaciers. Wildlife encounters are also possible – you may spot penguins, whales, seals, and other creatures in their natural habitat.
Exploring hikes can also be an exciting way to explore the continent – traverse snow-covered terrains and glaciers, taking in magnificent views along the way. Visiting scientific research stations can also be an interesting option – you'll have the chance to interact with researchers and learn more about the region's unique wildlife.
No matter what activities you choose while visiting Antarctica, your experience will surely be memorable. Visiting Antarctica as a senior is an incredible opportunity – you will get to explore the continent and gain valuable knowledge and understanding of its delicate ecosystems.
Antarctica is one of the most beautiful and unique places on Earth
A trip to this remote continent can be an amazing experience for everyone. When on the cruise ship you will have the opportunity to see marine life including seals and many species of whales. You will also see many incredibly unique icebergs and ice formations!
Once off the ship, passengers may cruise the waters in zodiac boats to see the ice formations up close, as well as other landscapes or areas of interest spotted by your guide. Ashore, you may explore on foot with hikes, snowshoe activities, and more! Some cruises offer helicopter flights as well! Make sure to speak with our team if you are interested in helicopter rides, certain ships are built with landing pads to accommodate this activity.
Planning a trip to Antarctica can be a daunting task, but it's worth it for the experience
Visiting Antarctica as a senior is an amazing opportunity to explore and discover the wonders of this remote continent. There are a few important things to consider when planning your trip, including the type of ship you'd prefer, what activities you can do while there, and how to stay safe in such harsh conditions.
You'll need to determine which type of vessel is best suited for your experience. Generally, you may choose from a cruise ship or expedition style ship, and these vessels have specialist navigation and safety equipment that enables safe travel through the icy waters. For specific ship information please speak with our team or take a look at our ships!
Senior travelers will find that Antarctica offers plenty of opportunities for exploration and adventure
You will find that Antarctica is full of opportunities for adventure and exploration. While planning your cruise, consider the destinations you would like to visit! You can find more information on our Antarctica Destinations page.
When visiting Antarctica, you will find plenty of activities to participate in, from camping to kayaking and even skiing. Visiting Antarctica as a senior also allows memorable experiences such as taking a hot air balloon ride or sightseeing around the famous Ross Ice Shelf.
Stand-up Paddleboarding in Antarctica
For those who want to explore the beauty of Antarctica, stand-up paddleboarding (SUP) is a great option. With its unique landscape and wildlife, Antarctica makes for an unforgettable experience. SUP lets you get up close and personal with the sights and sounds of one of the world's most pristine locations.
Make sure to choose a cruise with SUP as an activity option if you would like to experience this on your expedition. Not sure which cruise has this activity? Reach out to our team for assistance with booking the right cruise for you! When your ship arrives near the continent, you will be provided your wetsuit and all the necessary safety equipment – life jackets, helmets, etc. You'll be provided a board. Once set up, it's time to get out on the water and explore the Antarctic coastline with your group and guide!
As a senior, taking your time when visiting Antarctica is important. Make sure you don't overexert yourself during excursions or activities. SUP is a great way to explore the area without exerting too much energy. You can slowly paddle along, taking in all the sights and sounds of the area.
Make sure you're properly prepared for your Antarctic journey by packing the right gear and supplies
Visiting Antarctica as a senior is an exciting and life-changing experience. It's important to ensure you're properly prepared for the journey ahead. Here are some tips on what to bring with you on your trip:
Warm clothing:
You'll need to pack plenty of warm layers to keep you comfortable in cold temperatures. Make sure to bring waterproof and windproof clothing, a hat, gloves, and boots.
Sunscreen:
Even though you're surrounded by snow and ice, the sun can be very strong in Antarctica due to its higher elevation. This means you must pack plenty of sun protection, including sunglasses.
Food and drink:
No need to pack food or drinks! Our cruise ships have fully stocked dining halls and there is no shortage of (really good) food or beverages!
Medication:
Pack enough for the entire trip if you're taking any medication.
Travel documents:
Ensure you have all the necessary documents, like a valid passport, and insurance policy.
For more in-depth information on packing, please see our Preparing For Your Polar Cruise page.
Camping in Antarctica
One of the most unique experiences available to seniors is camping on Antarctic voyages. Visiting one of the world's last great wildernesses is an incredible opportunity, and it's possible for those willing to brave the elements.
Camping gear and instruction will be provided by your guide, so do not worry, your safety and comfort is of the utmost importance!
Don't forget to take pictures – they'll help you remember this once-in-a-lifetime experience
Make sure you have the right camera to document your Antarctic expedition! Most phones nowadays have fantastic cameras, but if would like to bring a more serious camera, read our Cameras in Antarctica blog post!

FAQs
Is Visiting Antarctica As A Senior Safe?
Visiting Antarctica as a senior is generally safe if you take the right precautions! Follow your medical provider's advice when considering an Antarctic cruise, and make sure to pack for your needs.
Are Special Visas Required To Visit Antarctica As A Senior?
No, no special visas are required to visit Antarctica as a senior. However, it is important to check the requirements for your home country before embarking on your trip.
What Is There To See In Antarctica As A Senior?
Antarctica is a unique destination that offers many exciting sights. Visiting Antarctica as a senior will allow you to experience the pristine landscape and wildlife, including penguins, seals, whales, and more. You may also have the opportunity to explore icebergs and glaciers.
Are There Any Age Restrictions To Visiting Antarctica As A Senior?
No, there are no age restrictions to visiting Antarctica as a senior. However, it is important to remember that some trips may not suit seniors with mobility issues. Check with your tour operator to find out if the trip you are interested in suits your upper age limit and physical condition.
What Are The Best Months To Visit Antarctica As A Senior?
Generally, the best months to visit Antarctica as a senior are during the Antarctic summer in November, December, and January. Visiting this time of year allows you to experience warmer temperatures and extended daylight hours.
How Can Travel Insurance Be Used When Visiting Antarctica As A Senior?
As a senior, it is important to purchase travel insurance for visits to Antarctica. Travel insurance protects you from medical emergencies, missed flights, and lost or stolen items. Ensure your policy covers activities such as ship cruises, sea kayaking, and skiing.
What Is The Climate Like In Antarctica?
Antarctica is a bitterly cold destination, with temperatures reaching as low as -90°C (-130 F) in the winter. During the summer months, average temperatures range from 0°C to 7°C (32 F to 45 F). Visiting during the Antarctic spring and summer offers seniors some of the most comfortable conditions.
What Are The Best Cruise Lines For Visiting Antarctica As A Senior?
At Polar Holidays we work with the best luxury and expedition cruise line companies to offer the best service, experience, and price for our customers. We have almost two decades of polar travel experience to both Antarctica and the Arctic. We would love to help you find the perfect cruise for you, as well as answer any questions you may have regarding Antarctic travel.
Bon Voyage!
We hope this blog has given you an insight into the possibility of visiting Antarctica as a senior. Antarctica is a world like no other and offers some of the most breathtaking sights that nature has to offer. With its remarkable history and diverse wildlife, there's something for everyone in this majestic frozen continent.
Whether you're a seasoned traveler or a first-time visitor, visiting Antarctica as a senior can be an incredibly rewarding experience. So gather your courage and prepare for the journey of a lifetime – Exploring this continent is something few will ever do, so why not make the journey yourself!